October 2, 2017
Tricks or Tips: Know How to Start Your Job Hunt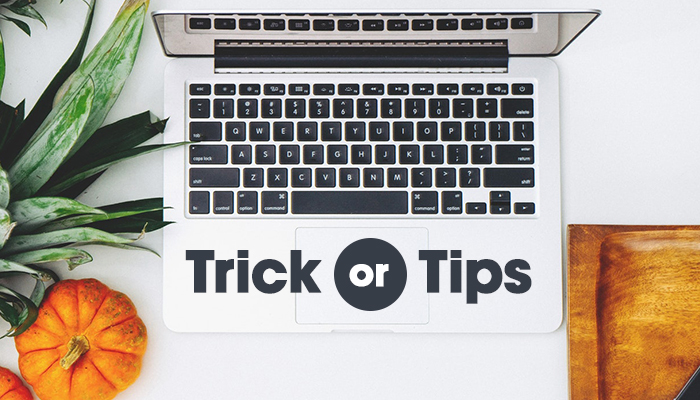 Are you looking for a career and unsure of how to start preparing for the job hunt? Well, you're not alone. Most job seekers really do not know how to start preparing for their job hunt. One aspect to keep in mind is to have patience; job hunting is a process and can take time. Moreover, if you are a job seeker and have your resume posted on job boards (e.g. LinkedIn, Indeed, Monster, CareerBuilder) it is important to know yourself, know what you're looking for, and know how to be prepared.
Know yourself
Have you ever been asked the question, "Tell me about yourself"? This is one of the most important questions you'll want to master. It's a quick snapshot of who you are professionally. You'll want to include your greatest achievements and why you're a good fit for the position/company. Along with knowing yourself, it's best to know where your strengths and weaknesses lay. It's critical to understand your value in order to be successful in your career search.
Know what you're looking for
An interviewer is going to want to know what type of position you're looking for. It's okay to be open on what position you want, but you'll need to be focused and realistic with your background. In addition, interviewers want to know what you're salary expectations are. Do your research and look up the position to see what the salary range is. Another rising area of interest for job seekers is company culture. Look into a company's culture to see if it aligns with your values and interests. Knowing what you're looking for will help you start your career search.
Know how to be prepared
You might be asking yourself, "What do I need to be prepared for?" When you're looking for a job, you are being assessed from multiple angles such as your resume, phone etiquette, email communication, the interview, and even your response time. You'll want to start off with being prepared by having a well-built resume, practicing interview questions, and professionally updating your social media accounts. Although, there are many online resources to prepare you for your job hunt, don't be afraid to reach out to someone in your industry and ask for help.
To conclude, you'll be more successful in your job search if you know yourself, know what you're looking for, and know how to be prepared. Should you desire professional assistance, Innovative would be happy to support you in your job hunt!
Contact us, it's not a trick, you'll only be treating yourself.
---

Help us support the Hurricane Relief
Please join Innovative Career Resources in our continued efforts to support the victims of Hurricanes' Harvey, Irma and Maria. With that said, Innovative has made an initial donation of $500 to Samaritans Purse, and will continue to donate $100 for every 100 shares, likes and comments over the next week. Together we can make a difference…
Like our Facebook post to support our donation efforts!
How you can also donate to help!
https://buff.ly/2wSz0qK
---
Please join us in wishing our Associates below a very Happy Birthday!
Oct 04 – Timothy P.
Oct 16 – Angelica C.
Oct 20 – Kim L.
Oct 21 – Hannah G.
Oct 26 – Carol K.
Oct 30 – Miguel S.