July 12, 2021
Edge of Excellence Podcast Appearance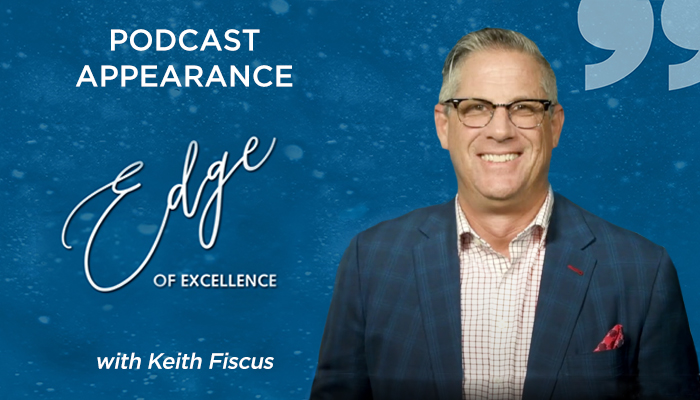 Innovative Career Resources & Staffing CEO Keith Fiscus made a recent appearance on the Edge of Excellence podcast. Edge of Excellence hosts conversations with community leaders whose careers have excelled in order to help current and aspiring leaders advance their careers. The podcast breaks down success in order to help listeners find their passion and learn how to rise up in any field. Keith dropped in to discuss his career path, his advice for people starting out in the workforce, and tips for standing out in a crowded field.
Every episode of Edge of Excellence starts with the guest's definition of excellence. Keith had some very specific answers for this, starting with "Get after it before your competitor." He emphasized his own experience in this area of starting his own business and getting to the office early and staying late, working harder than anyone else in order to be successful. His other answers to this included knowing your industry, being a resource (not a problem), offering solutions, and never underestimating the power of a firm handshake and eye contact.
Edge of Excellence's host, Matt Stewart, was interested in Keith's career path and how it went from the military to being CEO of his own company. Keith explained how as a boy he wanted to emulate his uncle who was a doctor. He was always interested in science and medicine, and so when he followed the family tradition of military service he became a combat medic. After the military he went into nursing and became an ER nurse for several years, but as a single father to a young son he wanted a career that would allow him to be present for his family and available to his son. Someone who knew Keith's love of science and medicine suggested he become a recruiter in the up-and-coming field of science recruiting, which he did for a year and a half. Realizing he could do it better himself, he put a business plan together, got a loan for $50,000, and launched Innovative Career Resources & Staffing.
"What gave you the confidence to be an entrepreneur?" asked Matt. "People believed in me more than I believed in myself," said Keith. "Other people's belief in me helped me keep going," especially in the early days of running his company. When Matt wondered how Keith honored those people who believed in him, Keith answered that being his best self, showing respect, and doing his best to be a role model and a mentor to others are the ways he pays it forward. And in order to remain successful, Keith says, "Never stop learning. I'm constantly learning, I'm constantly reading. Things are changing fast so I have to stay on top of everything going on out there."
Helping young people figure out what they love to do is part of the mission of Edge of Excellence. Matt and Keith discussed how college students and alumni can take advantage of their school's career counselors, who are great resources for helping determine interest and aptitude. They also recommend reaching out to your social and professional network and talking with people in the workforce. But Keith's number one tip is to find a mentor. It's easier than you might think—both Matt and Keith agree that 99% of professionals they know would make time to talk to someone and be willing to mentor them in a career field.
As someone who's been working since he was 12 years old, in one way or another, Keith's final piece of advice is to put people first. Listening to people, being genuine, and sometimes sacrificing your own wants and needs to help others is a key component of success. "I'm planting seeds and watering them. Eventually someone will come and water me."
For this and more great career tips and advice, you can find Keith's episode of Edge of Excellence here, or on your favorite podcast app.